Whole Wheat Tart Cherry Almond Muffins
Feb 28, 2017
Welcome to #28daysofrecipes.  We are celebrating #NationalCherryMonth by sharing 28 of our favorite cherry recipes.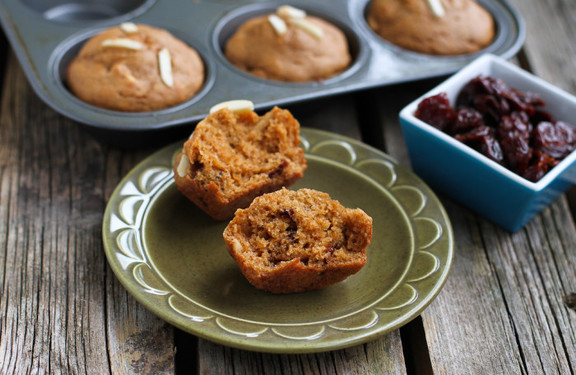 Summary 
Total Time: 25 minutes 
Prep: 10 minutes 
Cook: 12 to 15 minutes 
Yield: 12 muffins 
Level: Beginner
Ingredients 
1 1/2 cup whole wheat pastry flour
1 1/4 teaspoon ground cinnamon
1 teaspoon baking soda
1 teaspoon salt
3/4 cup unsweetened applesauce
1/2 cup plain nonfat Greek yogurt
1/3 cup pure maple syrup
1 egg
3/4 cup Montmorency tart cherries
1/3 cup and 2 tablespoons slivered almonds
Directions 
Preheat the oven to 375 degrees F.  Lightly coat a muffin tin with cooking spray.
In a large bowl, whisk together the flour, cinnamon, baking soda and salt. In a separate bowl, stir together the applesauce, yogurt, maple syrup and egg.
Add the applesauce mixture to the flour mixture and stir to combine.  Do not overmix. Add the Montmorency tart cherries and 1/3 cup of the slivered almonds. Stir to combine.
Divide the batter between the muffin cups (about ¼ cup each). Using the remaining slivered almonds to top the muffins.Bake until a toothpick inserted in the center of the muffins come out clean, 12 to 15 minutes.
Remove the muffins from the pan and allow to cool. Serve or store in an airtight container.
Recipe courtesy of Dara Michalski, CookinCanuck.com
Please add a comment
Leave a Reply