Double Chocolate Cherry Cookies
Feb 20, 2017
Welcome to #28daysofrecipes.  We are celebrating #NationalCherryMonth by sharing 28 of our favorite cherry recipes.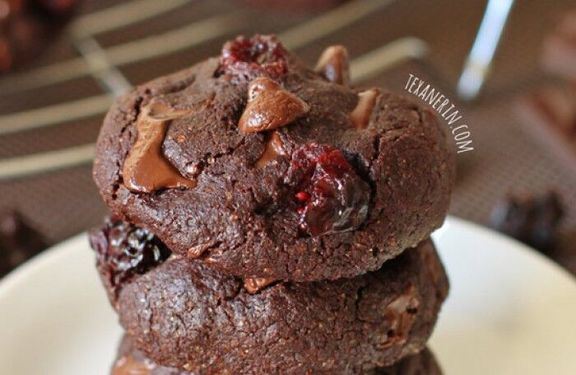 Summary
Total Time: 20 to 25 minutes
Prep: 15 minutes
Cook: 6 to 8 minutes
Yield: 24 cookies
Ingredients
1 cup dried Montmorency tart cherries
1 1/2 cups whole wheat flour, whole spelt flour or white whole wheat flour
1 cup Dutch-process cocoa powder
1 1/2 teaspoons baking powder
3/4 cup refined coconut oil
11/4 cups unrefined sugar
1/4 cup honey
1 tablespoon vanilla
2 eggs
2/3 cup chocolate chips
Directions
Preheat the oven 350 degrees F. and line a baking sheet with a piece of parchment paper.
In a medium bowl, mix together the flour, cocoa powder and baking powder.
In a large microwave safe bowl, melt the coconut oil.
To the melted coconut oil, add the sugar, honey, vanilla and eggs and stir until well combined. Let sit for 5 minutes to let the sugar dissolve
Add the dry mix to the wet and stir until well combined.
Stir in the chocolate chips and dried Montmorency tart cherries.
Roll into 24, 1 1/4 -inch balls and place them 2 inches apart on the prepared baking sheet. Press the balls down with the palm of your hand.
Bake for 6 to 8 minutes or until the cookies appear set in the middle. Do not over bake!
Let the cookies cool for two minutes on the baking sheet and then remove to a wire rack to cool completely. Store in an airtight container for up to 1 week.
Recipe Tip: You can use unrefined coconut oil if you don't mind the coconut taste.
Recipe courtesy of Erin Dooner, Texanerin.com
Please add a comment
Leave a Reply