Cherry, Goat Cheese & Candid Walnut Salad with Cherry Balsamic Vinaigrette
Feb 16, 2017
Welcome to #28daysofrecipes.  We are celebrating #NationalCherryMonth by sharing 28 of our favorite cherry recipes.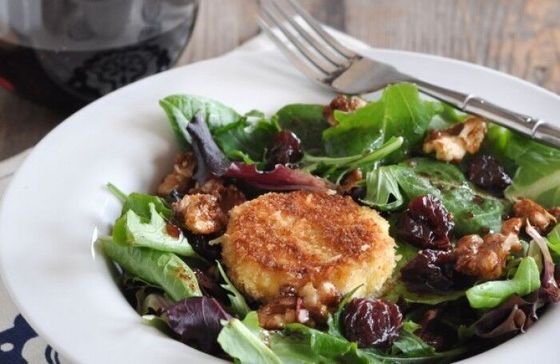 Summary
Total Time: 10 minutes
Prep: 5 minutes
Cook: N/A
Yield: 4 servings 
Ingredients
Cherry Balsamic Vinaigrette
1/2 cup Montmorency tart cherry juice
2 tablespoons balsamic vinegar
1 garlic clove, minced
1 scant tablespoon honey
1/4 cup olive oil
Pinch of salt and pepper
Candied Walnuts
1 cup walnut halves
1/4 heaping cup loose brown sugar
Crusted Goat Cheese
4 (1 ounce) slices goat cheese (see note below)
3 tablespoons breadcrumbs
3 tablespoons panko
1 egg, lightly beaten
3-4 teaspoons olive oil
Salad
1/2 cup dried Montmorency tart cherries
8 cups mixed greens, such as green and red leaf lettuce, arugula and baby spinach
1/2 cup walnuts, candied (recipe below)
4 crusted goat cheese medallions (recipe below)
Cherry Balsamic Vinaigrette to taste (recipe below)
Directions
Cherry Balsamic Vinaigrette
Place 1/2-cup Montmorency tart cherry juice in a small saucepan over medium heat.
Simmer until reduced to 1/4-cup. Place minced garlic in a medium bowl, add reduced Montmorency tart cherry juice.
Whisk in vinegar and honey. Slowly whisk in oil drop by drop until well combined. Season with a salt and pepper.
Candied Walnuts
Line a baking sheet with parchment paper or a silpat. In a medium nonstick skillet heated to medium heat, add walnuts and sugar and stir constantly until sugar has melted and coated the walnuts, no more than 5 minutes.
Pour onto prepared baking sheet and spread out to prevent clumping. Once dry, store in an airtight container.
Crusted Goat Cheese
Combine breadcrumbs and panko on a plate dip 1 ounce goat cheese medallion into beaten egg and then into breadcrumb mixture.
Add olive oil to a nonstick skillet, place goat cheese medallions in skillet and cook for approximately 3 minutes total, flipping once when underside is lightly browned.
Salad
Combine greens, dried cranberries and walnuts. Toss with desired amount of dressing. Divide onto plates and top each serving with one warm goat cheese medallion.
Recipe Tip: If you can't find pre-portioned goat cheese medallions, slice a piece off a goat cheese log and using your fingers lightly form it into a patty. Freezing the log for about 5 minutes before slicing might help the process.
Recipe courtesy of Melanie Flinn, Nutritious Eats
Please add a comment
Leave a Reply